It is a tale unique in film history.
While the French coined the term film noir in the years immediately following World War II and championed it as a fascinating American export, the Nouvelle Vague—which found its rebellious models in noir's alienated anti-heroes—mounted a furious attack on the films noirs produced in France in the 1940s and 1950s. As a result, nearly 90% of the films that built upon the principles of anxiety and discontent—in other words, the indigenous films noirs of France—were cast into a cultural purgatory from which most of them have still not escaped.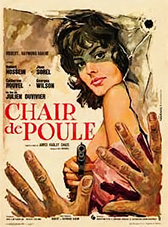 Our "Timeline Chart of French Film Noir" is dramatic evidence of this fact. For every French noir that has managed to emerge from the shadows created by the Nouvelle Vague's presumptuous cultural revolution, there are ten that still remain hopelessly obscure, particularly to American noir aficionados.
THE FRENCH HAD A NAME FOR IT is the first salvo in the battle to rediscover and redeem these films—many of which feature France's most iconic stars. (A variation of this festival, screened last November at San Francisco's Roxie Theatre, featuring many of the same films, played to sold-out houses and created a sensation. Now it is Los Angeles' turn.)
Over the next few years, we hope to bring American audiences an ever-increasing number of these lost treasures—films that show the consummate artistry of French directors, cinematographers, screenwriters and actors, all bringing their unique sensibilities to a type of filmmaking that they may well have understood more deeply than their counterparts on the other side of the Atlantic.
Feel free to revel in films representing some of the best work by cinema immortals as Brigitte Bardot, Jean Gabin, Simone Signoret, and Lino Ventura; directors such as Henri-Georges Clouzot, Julien Duvivier, Yves Allégret, Claude Autant-Lara, and Edouard Molinaro; and photographers such as Henri Dacaë, Armand Thirard, and Jacques Natteau.
In this incarnation of the festival, we will also rediscover other major talents whose best work is found in French film noir: actor-director Robert Hossein, exceptionally proficient on either side of the camera; actress Danièle Delorme, equally effective as scheming ingénue and icy spouse; and brilliant character actor Bernard Blier, capable of bluntness and subtlety at the same time.
Welcome to an unexplored continent where the heart of darkness is alive and well…
—Don Malcolm, Midcentury Productions