Mid-Century Productions is proud to announce a special weekend tribute to Santa Barbara local Don Murray, a great American actor whose career choices have consistently demonstrated a commitment to stories with strong social messages. The program showcases Don's work as an actor and director, spanning six decades from his Oscar-nominated performance in BUS STOP opposite Marilyn Monroe in 1956 to his most recent production, the underwater thriller BREATHE from 2007.
DON MURRAY shot to prominence with his Oscar-nominated performance in BUS STOP (1956) and evolved into a singularly eclectic actor over the next twenty years. His dedication to cutting-edge issues has created a series of classic but overlooked performances—a situation that our Weekend Tribute will attempt to remedy! MORE.
EVA MARIE SAINT is universally known for two classic roles—ON THE WATERFRONT (for which she won the Oscar for Best Supporting Actress) and NORTH BY NORTHWEST (where she played everyone's idea of the treacherous-but-vulnerable, smart-but-sexy spy). She'd rather talk about A HATFUL OF RAIN, however. MORE.
FOSTER HIRSCH wouldn't toot his own horn, but the Brooklyn College film professor, historian, and author of nearly two dozen books may just be the best film interviewer in the world. He is working on an epic look at 1950s film and it is no coincidence that the films he will be discussing with Don Murray were all shot in Cinemascope!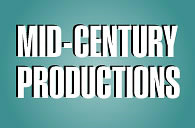 MID-CENTURY PRODUCTIONS is a "boutique" programming venture designing "mini film festivals" featuring films from Hollywood's most explosive three decades—the 1940s, 1950s, and 1960s. We program original festivals and work with organizations and individuals to craft singular programming that illuminates the hidden corners of these three decades.Coming soon: Mid-Century launches its "So You Want To Be A Film Programmer" contest!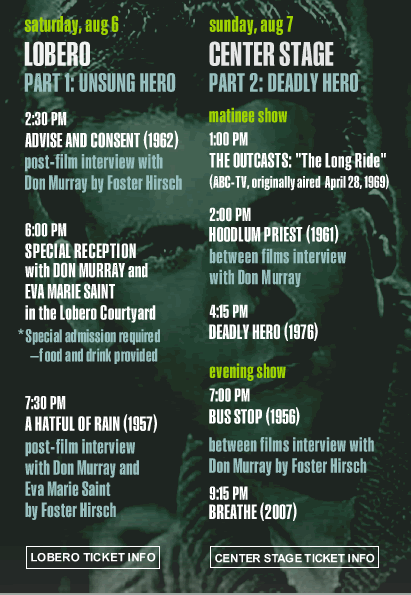 VIDEO View the trailer for Don Murray's underwater thriller, BREATHE. At right, the 1956 trailer for BUS STOP, followed by an inteview with Don Murray talking about working with Marilyn Monroe. BUS STOP screens Sunday, August 7 at the Center Stage Theater, followed by an on-stage interview with Don Murray by Foster HIrsch. and the screening of BREATHE.
SEE ALSO: An interview with Don Murray with Mid-Century Productions about his role in Frank Zimmernan's A HATFUL OF RAIN, and in a second interview looks at Don's western television series, THE OUTCASTS.