2020 MIDCENTURY PRODUCTIONS PROGRAMMING SUSPENDING UNTIL FURTHER NOTICE
Dear Friends: our best-laid plans for Midcentury Productions' ongoing foray into French noir, like so much else in America, are now on hold due to the current health crisis facing the nation. We hope to reschedule our SIMENON 2020 series based on how events play out; the same is true for our planned Jean Gabin tribute. You can still read about them below, but know that any schedule dates listed are no longer active. If you haven't already, please take a moment to join Midcentury's mailing list to receive the timeliest updates about our future resumption in programming. Stay safe, and we hope to see you in either San Francisco or Los Angeles later this year—Godspeed to all!
MIDCENTURY TAKES ON 2020: SIMENON, GABIN—AND GOOD OLD MARVIN PAIGE!
It's another busy year at Midcentury Productions—or MCP, as Exec Director Don Malcolm likes to call it. Rare French noir, a staple since 2014, will be back in a revised festival format at the Roxie in November, but we've got lots more up our sleeve until then!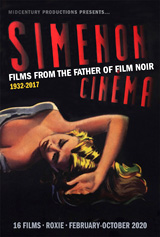 First, there's a monthly series honoring Georges Simenon, the world's pre-eminent crime writer of the twentieth century. Prolific but often profound, with Inspector Maigret a worldwide best-selling legend and his probing, perverse romans durs taking us into astonishing realms of darkness, Simenon is more than ready for his closeup—and we'll screen sixteen films based on his work starting Sunday, February 23 in the cozy confines of the San Francisco's Little Roxie. All dates will be double features, screening on selected Sundays at noon. And a special September show—we call it the "Simenon Surprise"—will play in the Big Roxie. Join the MCP subscriber list for updates throughout the year.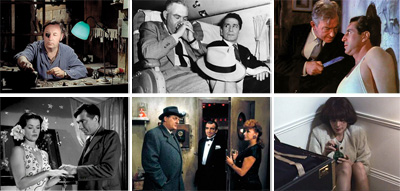 → TICKETS & COMPLETE PROGRAM INFO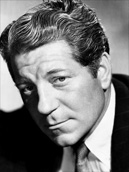 Second, we'll be saluting the one & only Jean Gabin with a spectacular birthday marathon on Sunday, May 17 in the Big Roxie. We've screened eleven rare Gabin titles thus far in our FRENCH HAD A NAME FOR IT series, and fortunately there are plenty more where those came from! Of course Gabin can't be there in person, but five films plus a giant birthday cake will help make up for that! Film details will be forthcoming, so save the date and prepare to bask in the singular screen presence of France's greatest cinema icon!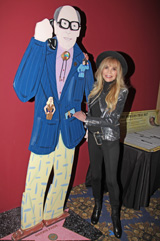 And finally, here's a shout-out to our first triumph of 2020—our sixth annual Marvin Paige tribute, which screened on Sunday, January 26 at Los Angeles' legendary Egyptian Theatre. The late, great casting director and legendary "wrangler" of Hollywood talent would have been thrilled to see our sellout crowd in a rapturous response to the devilish action in the emerging cult classic THE LAST OF SHEILA (1973), a twisty mystery that's been boosted by kudos from director Rian Johnson (KNIVES OUT, BRICK). We were honored to have two of the film's great stars—Richard Benjamin and Dyan Cannon (pictured above next to Laurie Pincus' marvelous statue of Marvin) with us for a post-screening interview with the incomparable Foster Hirsch. (Our Los Angeles supporters can look forward to our sixth French noir series at the Aero Theater right after Labor Day: stay tuned for more schedule details!)
2019 • THE FRENCH HAD A NAME FOR IT 6: A FLASHPOINT FOR THE HISTORY OF FILM NOIR
Kudos and thanks to the San Francisco Chronicle's Mick LaSalle for putting in print what many have been saying about THE FRENCH HAD A NAME FOR IT for several years (including us!).
By stating that Midcentury Productions' ongoing discovery of a lost cache of French film noir (a filmography now known to be in excess of 600 films, as compared to the still-standard accounts which reference only 30-60) is a game-changing moment in film history analogous to Film Forum's 1980s uncovering of American "pre-Code" cinema, Mick—who wrote two books about the women and men who populated those pre-Code films—made it clear that current modes of thinking about French film history and the history of film noir are incomplete and in need of serious revision.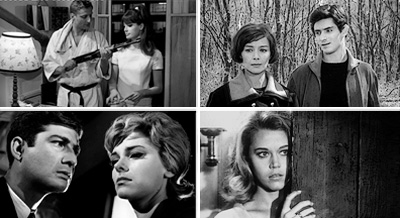 And, once again, the response of the Roxie Theatre audience to FRENCH 6, MCP's exploration of French noir in the 1960s, reiterated the game-changing aspect of the series as a whole. With fifteen more films ranging from slick 60s thrillers (JOY HOUSE, ANY NUMBER CAN WIN, SYMPHONY FOR A MASSACRE) to noir-New Wave collisions (Godard's THE LITTLE SOLDIER, Resnais' THE WAR IS OVER, and Michel Drach's astonishing debut film WE DO NOT BURY SUNDAY) to brooding tales of psychological entrapment (Franju's THÉRÈSE DESQUEYROUX, Molinaro's THE LAST OF BELLE), the FRENCH 6 lineup captured the frenzy of 1960s French filmmaking from a perspective that has been withheld from us for more than fifty years.
With 101 noirs shown over seven festivals from 2014-19, MCP and its Executive Director Don Malcolm have laid the groundwork for a massive re-evaluation of film noir history and the history of French film, following in the footsteps of Bertrand Tavernier's illuminating JOURNEY THROUGH FRENCH FILM, a more "auteurist" approach to the unjustly maligned world of the cinéma de papa (including French film noir!). Look for Don's book on the subject in mid-2020.
↑ View the 2019 FRENCH HAD A NAME FOR IT 6 trailer
Relive the back pages of THE FRENCH HAD A NAME FOR IT
Interested to know what rare films from the "lost continent" of French film noir have been screened at THE FRENCH HAD A NAME FOR IT festivals at the Roxie Theatre? Here are some handy links that will take you to the program information:
FRENCH 6 (Nov 14-18, 2019); FRENCH 5½ (May 10-15, 2019); FRENCH 5 (Nov 15-20, 2018); FRENCH 4 (Nov 3-6, 2017); FRENCH 3 (Nov 3-7, 2016); FRENCH 2 (Nov 6-9, 2015); and FRENCH 1 (Nov 14-17, 2014).

If you haven't already, please join us on Facebook — up-to-the-minute info can be found there about our upcoming shows, and other news.